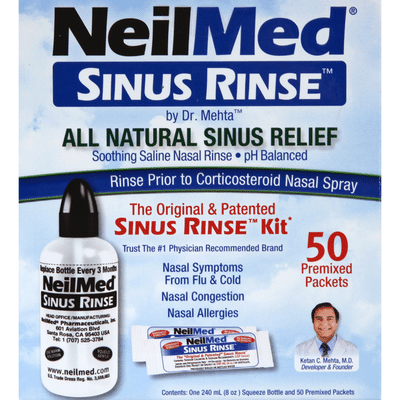 NeilMed Sinus Rinse Kit
8 fl oz
Details
Contents: One 240 ml (8 oz) Squeeze Bottle and 50 Premixed Packets. 50 premixed packets. Kit Includes: 1 Rinse bottle 240 mL (8 fl oz); 1 Custom-designed black cap and tube; 50 Premixed packets of USP grade (purity level 99% or higher) sodium chloride and sodium bicarbonate mixture (pH balanced, natural ingredients, isotonic, preservative & iodine free); Educational brochure with directions for use and warnings. Natural sinus & allergy relief. All natural sinus relief. Soothing saline nasal rinse. pH balanced. Rinse prior to corticosteroid nasal spray. The original & patented Sinus Rinse Kit (Patented in USA, Canada, Australia, New Zealand, Mexico, Brazil, Germany, India, Spain, Turkey, United Kingdom). Trust the no 1 physician recommended brand. Nasal symptoms from flu & cold. Nasal congestion. Nasal allergies. NeilMed Sinus Rinse is an easy squeeze bottle system that allows you to deliver saline solution with positive pressure to clean the nasal passages thoroughly, while maintaining your head in an upright position. You have complete control of the pressure and volume of solution, ensuring a gentle, soothing and therapeutic experience. Daily rinsing is safe and will keep your nasal passages clean, healthy and open. Use to cleanse and relieve nasal passages affected by: Nasal allergies, dryness and hay fever; Sinus pressure and nasal stuffiness; Nasal symptoms from flu and cold; Nasal irritation from occupational and house dust, fumes, animal dander, grass, pollen, smoke, etc.; Post-nasal drip and nasal congestion. Advantages: Easy to use, comfortable and smooth-flowing saline nasal irrigation; Soothing, non-burning and non-stinging nasal irrigation; Non-sedating; Custom-designed cap comfortably fits any nasal opening; Excellent for cleansing prior to use of nasal spray medications; Suitable for use after sinus surgery or during pregnancy; consult your physician with concerns; Easy to clean; Solution empties nearly 95% when you stand upright; Can be used as a pH balanced and isotonic solution with one packet, or a hypertonic solution with two packets; Drug-free and preservative-free; Portable for travel; Money-back guarantee (if returned within 120 days of purchase). No burning or stinging. NeilMed Quality Policy and Guarantee: NeilMed is the no 1 brand in North America for large volume saline nasal irrigation devices. Our goal is to ensure the highest possible quality, safety, effectiveness and ease of use for our devices at an affordable price. We are highly committed to meeting applicable regulatory, customer and quality standards, and achieving increasing levels of customer satisfaction. NeilMed prides itself on its high quality products and values customer satisfaction. Our policy is to provide a full money-back guarantee within 120 days if you are unsatisfied for any reason. Today, we support medical research at several university medical centers. I assure you that you will be very satisfied with the NeilMed brand of products and the NeilMed way of customer service. Additional Products Available Nationwide: Naspira Babies & Kids by Dr Mehta. Nasal-Oral Aspirator for baby's stuffy nose. Clear design. Sterilizable. 2-in-1 design. Naspira Plus Babies & Kids PediaMist Saline Spray. Sinus allergy. Hay fever. Mucus congestion. Nasal-oral aspirator & sterile saline vials. NeilMed Clear Canal Dr Mehta's Ear Wax Removal Complete Kit. Dr Mehta's Rule of 10 Method for Ear Wax Removal. Contains 10 complete treatments. Drainage collection cup. From the Makers of NeilMed: NasaFlo Neti Pot. No 1 physician recommended brand in USA & Canada. Sinugator by Dr Mehta. Cordless pulsating nasal wash with 30 premixed sachets. 120 days money-back guarantee. NasaFlo Porcelain Neti Pot. ISO 13485: 2012 International Accreditation Quality Management System Certified Company. CE listed. Toll Free: 1 (877) 477-8633. Tel: +1 (707) 525-3784. Fax: +1 (707) 525-3785. www.neilmed.com. For sale in USA only.
---
Ingredients
Keep Out Of Reach Of Children
---
Warnings
Do not use with tap water; use only with previously boiled, distilled, commercially bottled, or micro-filtered (through .2 micron) water. Each device must be used only by one user; do not share this product with others. Follow the cleaning protocol after each use of the product. Replace this device within three months of your first use. Rinse your nose gently. Before using this product, please read detailed warnings in the enclosed brochure or on our website at: www.neilmed.com/usa/directions. Our website will always have up-to-date warnings. Attention: Medical research recommends following the cleaning protocol fully described in the enclosed brochure for the Sinus Rinse™ bottle & NasaFlo® neti pot after every use and replacing the device after three months.
---
Directions
Attention: Medical research recommends following the cleaning protocol fully described in the enclosed brochure for the Sinus Rinse bottle & NasaFlo Neti Pot after every use and replacing the device after three months.
Popular brands
Why Instacart?
Instacart delivers fresh groceries
Great Prices, from multiple stores
All your favorite local stores
Personal shoppers pick all the highest quality items for you
Delivered in as little as 2 hours
Why Instacart?
Instacart delivers fresh groceries
Great Prices, from multiple stores
All your favorite local stores
Personal shoppers pick all the highest quality items for you
Delivered in as little as 2 hours