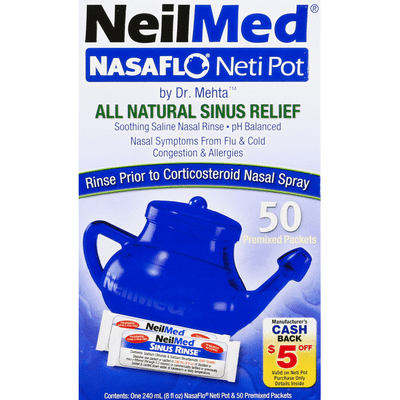 Details
For adults & children 4 years and up. NasaFlo Neti Pot by Dr. Mentha. All natural sinus relief. Soothing saline nasal rinse. pH balanced. Nasal symptoms from flu & cold. Congestion & allergies. Rinse prior to corticosteroid nasal spray. 50 premixed packets. No. 1 selling Neti Pot (In USA and Canada). For sale in USA only. Preservative free. The NasaFlo Neti Pot allows for a smooth gravity flow that does not create any pressure in the nasal passage, ears or sinuses. NeilMed is the no. 1 brand in North America for large volume saline nasal irrigation devices. Our goal is to provide you with top-quality devices that are highly effective, easy to use, affordable and safe. We are highly committed to meeting applicable regulatory, customer and high quality standards and achieving increasing levels of customer satisfaction. Contents: 1 NasaFlo Neti Pot Irrigation device 240 ml (8 fl oz). 50 packets of USP Grade (Purity level 99% or higher) sodium chloride & sodium bicarbonate mixture (pH balanced, natural ingredients, isotonic and preservative free). Educational brochure with directions for use. Relieves Nasal Passages from: Nasal allergies, dryness & hay fever. Sinus pressure & nasal stuffiness. Nasal symptoms from flu & cold. Nasal irritation from occupational & house dust, fumes, animal dander, grass, pollen, smoke, etc. Post-nasal drip & nasal congestion. Advantages: Easy-flow, no-spill, no-mess pot design. Soothing, non-burning and non-stinging nasal irrigation. Non-sedating. Excellent for cleansing prior to use of nasal spray medications. Suitable for use after sinus surgery or during pregnancy; consult your physician with concerns. Easy to clean. Can be used as pH balanced, isotonic solution with one packet, or hypertonic extra-strength solution with two packets. Drug-free and preservative-free. Portable for travel. Money-back guarantee (If returned within 120 days of purchase). NeilMed Customer Quality Policy & Guarantee: NeilMed prides itself on its high quality products and values customer satisfaction. Our policy is to provide a full money-back guarantee within 120 days if you are unsatisfied for any reason. Today we support medical research at several university medical centers. I assure you that you will be very satisfied with the NeilMed brand of products and the NeilMed away of customer service. CE listed. ISO 13485: 2016 International Accreditation Quality Management System Certified Company. Toll free USA and Canada: 1 (877) 477-8633. Also Available from NeilMed: Not included in this box. HydroPulse Multi-Speed Pulsating Nasal Wash Variable Flow Rate Control. NeilMed Sinus Rinse Kit. Also Available from NeilMed: Not included in this box. NasoGel Dry Noses (Soothe & moisturize). Nasa Mist Sterile Saline Spray All-in-One (Large volume, low pressure nasal wash). Nasa Mist Saline Nasal Spray Extra Strength (Hypertonic saline nasal spray).
---
Ingredients
NasaFlo Neti Pot Irrigation Device 240 ml (8 fl oz), 50 Packets of USP Grade (Purity Level 99% or Higher) Sodium Chloride & Sodium Bicarbonate Mixture (pH Balanced, Natural Ingredients, Isotonic & Preservative & Iodine Free).
---
Warnings
For large volume nasal irrigation devices. Replace the bottle and Neti Pot every 3 months. Always read the label. Use only as directed. If symptoms persist, see your doctor or healthcare professional. Recent medical research recommends following the cleaning protocol for the Sinsun Rinse™ bottle & NasaFlo® Neti pot after every use and replacing the device after 3 months. General warning for: NeilMed® Sinus Rinse™, NasaFlo® Neti Pot, Sinugator®, SinuFlo® ready rinse® and NasaMist® with Dr. Mehta's LVLP Tip™. Always rinse your nasal passages with NeilMed® Sinus Rinse™ packets only. Our packets contain a mixture of USP grade sodium chloride and sodium bicarbonate. These ingredients are of the purest quality available to make the dry powder mixture. Rinsing your nasal passages with only plain water without our mixture will result in a severe burning sensation as the plain water is not physiologic for your nasal lining, even if it is appropriate for drinking. Additionally, for your safety, do not use tap or faucet water for dissolving the mixture unless it has been previously boiled for five minutes or more as boiling sterilizes the water. Other choices are distilled, micro-filtered (through 0.2 micron), commercially bottled or, as mentioned earlier, previously boiled water at lukewarm or body temperature. You can store boiled water in a clean container for seven days or more if refrigerated. Do not use non-chlorinated or non-ultra (0.2 micron) filtered well water unless it is boiled and then cooled to lukewarm or body temperature. Do not rinse if your nasal passages are completely blocked or if you have an ear infection or blocked ears. If you have had recent ear or sinus surgery, contact your physician prior to irrigation. If you experience any pressure in the ears or burning in the nasal passages, stop irrigation and get further directions from your physician. Keep out of reach of children. Read and retain this enclosed brochure for instructions and other important information. We recommend that you use the rinse one our prior to bedtime in order to avoid any residual solution dripping down the throat. Patients who are unable to stand up or bend near the sink should not use this product. We strongly advise against the use of our kit on children or adults who have physical limitations or mental disabilities due to developmental or acquired disorders. Adults should read the directions first before using it on their children. Do not swallow the solution; however, if you do so accidentally, there is no harm as the amount of sodium ingested in one swallow is insignificant. Tips To Avoid Ear Discomfort While Rinsing: If you have had ear surgery, please contact your physician prior to irrigation. Do not use if you have an ear infection or blocked ears. Rinse with lukewarm distilled, filtered or previously boiled water. Keep your mouth open while rinsing. Do not hold your breath while rinsing. While rinsing, make sure to tilt your head down. Gently squeeze the bottle while rinsing; do not squeeze the bottle forcefully. Stop the rinse if you feel a sensation of fluid near your ears. Most importantly, always blow your nose very gently. To avoid unexpected drainage after rinsing: In rare situations, especially if you have had sinus surgery, the saline solution can pool in the sinus cavities and nasal passages and then drip from your nostrils hours after rinsing. To avoid this harmless but annoying inconvenience, take one extra step after rinsing: lean forward, tilt your head sideways and gently blow your nose. Then, tilt your head to the other side and blow again. You may need to repeat this several times. This will help rid your nasal passages of any excess mucus and remaining saline solution. If you find yourself experiencing delayed drainage often, do not rinse right before leaving your house or going to bed. Caution: Do not homemade salt mixtures for nasal irrigation. Homemade solutions may have incorrect concentrations, leading to inadequate relief or even nasal congestion. Additionally, store-bought table salt and baking soda are not pharmaceutical grade compounds for medical use and may contain impurities not desirable for the nose. The NeilMed® Sinus Rinse™ system is a large volume nasal rinse that will deliver 120 ml to 240 ml (8 fl oz) of saline solution into the nasal passages. Adding one blue packet of NeilMed® Sinus Rinse™ to 240 ml (8 fl oz) of water will make an Isotonic saline solution (Hypertonic with 2 or more packets) that is pH balanced and preservative free.
---
Directions
Instructions for Cleaning and Disinfecting Devices: It is very important to keep these devices clean and free from any contamination. Replace the bottle every 3 months. NeilMed® Sinus Rinse™ Squeeze Bottle: Please perform routine inspections of the bottle and tube for any discolorations and cracks. If there are any visual signs of deterioration or permanent color changes, please clean thoroughly. If the discolorations remain after cleansing, discard the items and purchase new ones. Please these instructions after each use of the product. Be sure to replace your product after three months. Step 1: Rinse the cap, tube and bottle using running water. Fill the bottle with distilled, micro-filtered (through 0.2 micron), commercially bottled or previously boiled & cooled down water at lukewarm or body temperature. Step 2: Add a few drops of dish washing liquid or baby shampoo. Step 3: Attach the cap and tube to the bottle; hold your finger over the opening in the cap and shake the bottle vigorously. Step 4: Squeeze the bottle hard to allow the soapy solution to clean the interior of the tube and the cap. Empty out the bottle completely. Step 5: Rinse the soap from the bottle, cap and tube thoroughly and place the items on a clean paper towel to dry or use the preferred Nasadock® or Nasadockplus™. The NasaDOCK® is a simple, hygienic way to dry and store the Sinus Rinse™ bottle, cap and tube. Nasadock® comes with various hanging options and is available in different colors. Our newest model also offers storage for our Sinus Rinse™ mixture packets. We strongly suggest using NasaDOCK® as an inexpensive, easy way to dry the cap, tube and Sinus Rinse™ bottle. Dishwasher Cleaning: Do not use a dishwasher to clean the inside of a bottle. While our bottle is dishwasher safe, a dishwasher will not adequately clean the Sinus Rinse™ bottle. The water jets in dishwashers cannot enter the narrow neck of the bottle, and portions of the bottle's interior will not be cleaned thoroughly. Additional methods of cleaning the bottle include the use of concentrated white vinegar or isopropyl alcohol (70% concentration), followed by scrubbing and rinsing as described above. Microwave Disinfection: Clean the device with soap and water as mentioned above and shake off the excess water. Now place the bottle, cap and tube in a 800 watt microwave for 60 seconds or 40 to 50 seconds for a higher wattage microwave. This will disinfect the bottle, cap and tube as recommended by NeilMed® as well as published in medical research journals. If the microwave has been used recently. please make sure that the inside of the microwave has cooled back down to room temperature before using to disinfect the bottle. NeilMed® NasaFlo® users: Use the same procedures as above. Sinugator cleaning directions: Clean the Sinugator by running plain water and dry with a clean lint free towel and then a air dry the unit by keeping it open to the air. The nasal irrigator tip, blue reservoir and white soft tube can be disinfected by cleaning with soap and water and shaking off the excess water before placing in the home microwave for 60 seconds. Clean the entire unit with a few drops of dishwashing liquid and water every three days to keep the unit clean. As a final rinse to wash off any residual soap or tap water, use either distilled, micro-filtered (through 0.2 micron filter), commercially bottled or previously boiled & cooled down water. Please make sure to rinse thoroughly during each wash so no soap is left behind. Do not place the white motor unit in microwave for disinfection. Because of the unit's stainless steel components, this can cause damage or fire hazards. General principles of maintenance & storage: When permissible use a microwave periodically to disinfect devices. Always store NeliMed® products in a cool and dry place with adequate ventilation, NasaDock® or NasaDockplus™ offer a simple hygienic way to air dry & neatly store the bottle, cap, tube and NasaFlo. Do not store the bottle with the cap screwed on, unless both are dry. Do not store the wet parts in a sealed plastic ag. If you travel before they are dry, wrap parts separately in paper towels. Hand soap or shampoo can be used for cleaning parts while away from home.
Why Instacart?
Instacart delivers fresh groceries
Great Prices, from multiple stores
All your favorite local stores
Personal shoppers pick all the highest quality items for you
Delivered in as little as 2 hours
Why Instacart?
Instacart delivers fresh groceries
Great Prices, from multiple stores
All your favorite local stores
Personal shoppers pick all the highest quality items for you
Delivered in as little as 2 hours